WiFi Vending and Sharing
Share or resell your internet connection and earn money
EXTRA WiFi is a cooperative WiFi network which allows every  person who has internet connection, to offer his internet to people in the area and gain unlimited daily income.
Start Now
About EXTRA WiFi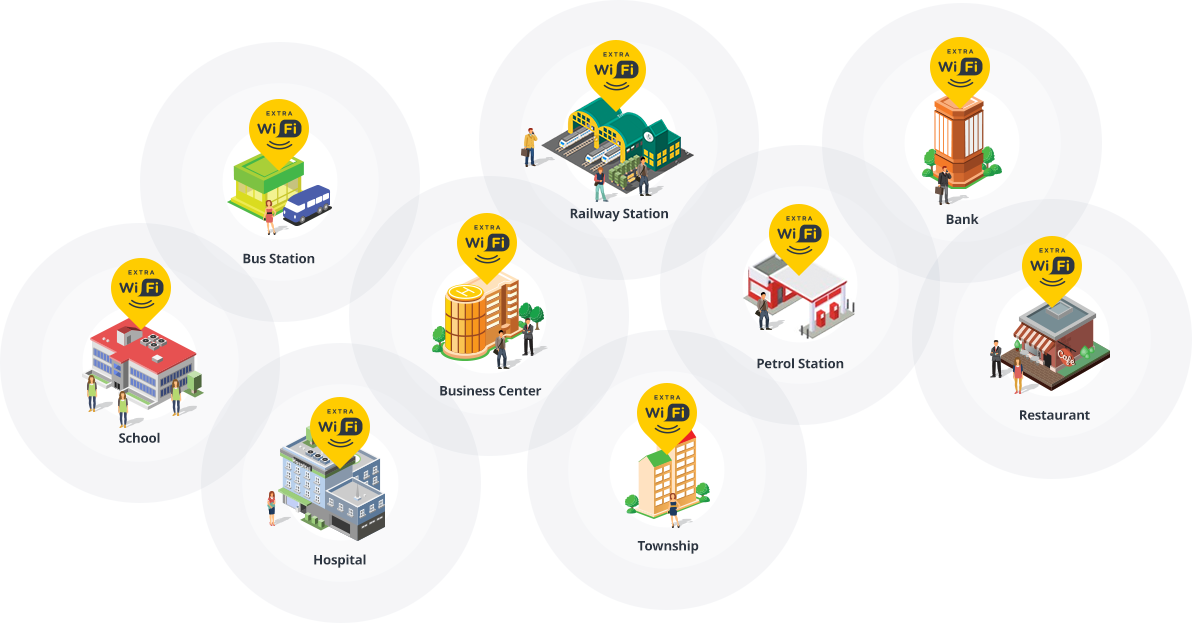 What Can You Do With EXTRA WiFi?
Sell WiFi At Your Place
Resell your internet connection to people in your area. You can  do it in your business, store, home, and many other example of locations. Just connect EXTRA WiFI device to your internet and start selling.
Create WiFi Vending Business
Create local, national or international WiFi vending businesss with unlimited point of sale around the glob, and manage easily and remotely by smart managment system, without need to leave home.
Share WiFi With Your Clients
If you would like to share your internet with your clients, EXTRA WiFI alllows your to offer your clients free access, define who can connect, how, their access limitation and what information they should supply.
Every one can join EXTRA WiFi.
If you are intereseted in sharing or reselling WiFi, then you need have access to an internet connection that you would like to share or resell and have EXTRA WiFi device that allows you to  use EXTRA WiFi web system and share or resell your internet connection .
Get EXTRA WiFi Device
Get a hotspot device that allows you to offer your internet connection to people in the area.
Connect To Internet
Connect EXTRA WiFI device to the internet connection that you would like to share or resell and define your prices.
Start Earn Money
Share or sell your connection to earn a daily or lifetime commission with EXTRA WiFi compensation plan.
How To Earn Money With EXTRA WiFi
WiFi Vending
Earn unlimited daily income by selling WiFi to people in the area at any price you wish.
Compensation Plan
Get lifetime commission from the incomes that other members of the network earn at their locations.
Referral Bonus
Invite your friends to become part of EXTRA WiFi network and gain cash reward for friend who joins.
All In One Solution
The only solution that allows you to offer variety of free or paid WiFi and international phone call services, and earn unlimited monthly income just because you are part of the network.
World Wide Network
Largest international WiFi network with thousands of point of service and millions of users.
Automatic login ensure the user stays connected at all WiFi zones.
High Profits
Grow your revenue in a passively; Grow worldwide using remote vendor management system.
Online platform allowing business in your area to resell your services to their clients.
Generous referral plan.

Low Cost & High Quality
Get  high end WiFi device
with the last technology
in the best price guarantee or even for FREE
Security
User information and data access is well secured to avoid hacking and privacy violation.

User Friendly
Beautiful customized login page with explanations, rates, address, map ensure the users will get to your place and use it well. 
Cloud Service
Supervise and manage all your locations remotely in real time from everywhere.
Innovative Technology
Resources management and optimization ensure high quality of service to all users.

100% True Wireless
Avoid any type of cables. With local wireless internet source and mobile power bank turn you offer WiFi and Phone services even from your pocket.
Roaming
Roaming system allows users to stay connected at all EXTRA WiFi zones
Easy & Fast Scaling
Expand your business and network coverage without risks and within seconds.
Salesman Management
The vendor management system let you define a local vendor person, his commission, to supervise the activity and receive your revenue directly to your account.

Payments
Receive payments by cash, credit cards, debit card and PayPal.
Management Tools
Online management tool let you manage and supervise the activity of unlimited number of locations, remotely from everywhere. Get real time status, system notifications, alerts and statistics and updates 24/7.
Auto Revenue Pick Up
Receive salesman payments directly to your account. Save time and money avoiding pick up revenues manually, scale the business worldwide without leaving home.
Customizable
Customize your location landing page and business information, services, packages, rates, consumption limitations, as band width, data or time consumption, maximum number users, set login method, frequency and more.
Customer Magnet
Your location being published and promoted as EXTRA WiFi Zone and motivate WiFi users come, stay connected and you gain a lot of new clients and visitors.
Digital Marketing
Save your customers personal details or social media and keep in touch with them later, send advertising and automatic notifications while they are near you.
Responsive
Easy , friendly and full management of your locations network by any mobile device.
Maintenance & Support
Excellent supervise system will watch your network activity for you and notify you about issues that need your attention. In case you need help use our efficient online support.